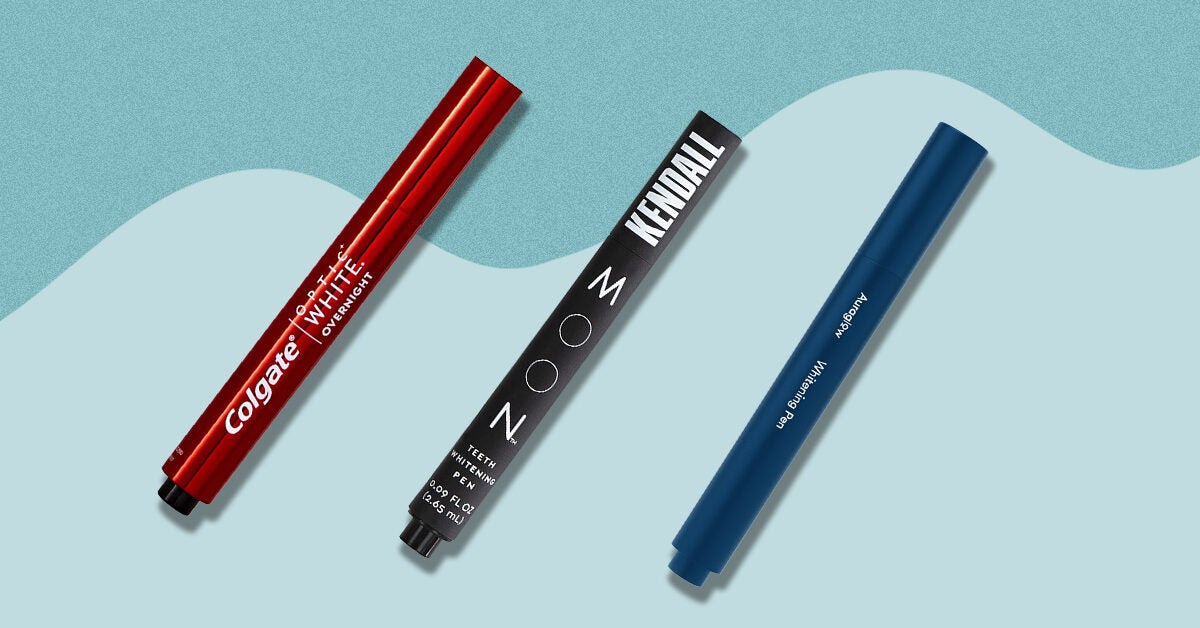 Do you dream of a pearly white smile? You're not alone.
Cosmetic teeth whitening has grown into a $ 3.2 billion global industry. 2012 research with 150 participants found that those with whiter smiles were considered more attractive.
While you can see a dentist for professional teeth whitening, a typical treatment doesn't come cheap: it costs around $ 650 per visit.
This is where teeth whitening pens come in. These are thin plastic tubes that contain whitening gel. They remove dental stains from foods and drinks, such as coffee, red wine, and berries.
Curious to know more? We've rounded up the best dentist-recommended options. Read on for the best teeth whitening pens to keep your smile glowing.
One of the main advantages of teeth whitening pens is their ease of use.
Most work by twisting the bottom to release the whitening gel, which is often carbamide peroxide, or a combination of urea and hydrogen peroxide.
Carbamide peroxide whitens teeth slower than hydrogen peroxide, but it helps reduce tooth sensitivity, said Dr. Joseph Salim, DMD.
To use a whitening pen, apply the whitening gel to each tooth with the soft brush tip of the pen. Unlike other whitening treatments, the brush can reach hard-to-reach areas where stains accumulate most, such as between the gums, said Dr. Jennifer Jablow, famous dentist and founder of intelligiWHiTE.
Depending on the model, you let the gel dry or you let it sit for a while before rinsing it off. "Usually the gels solidify and form a film that adheres to the teeth," Salim said. "This film causes the whitening effect."
When choosing teeth whitening pens for this list, we took three main factors into account: ingredients, prices, and customer reviews.
Tooth sensitivity, for example, was a priority. Certain ingredients, such as hydrogen peroxide, are known to cause or worsen sensitive teeth.
Finally, we spoke with licensed dentists to come up with the top 10 whitening pens they trust the most.
Price guide
We have indicated the price range for each product as follows:
$ = less than $ 15
$$ = $ 15 – $ 30
$$$ = over 30
Best overall
AuraGlow Teeth Whitening Pen
Price: $$
This popular product is a good option for sensitive teeth because it contains 35 percent carbamide peroxide. This equates to about 13 percent hydrogen peroxide. It comes with 15 whitening treatments and has a clear tip that lets you know how much you are using.
"It's extremely easy to use," Salim said. "The small brush of the pen allows you to paint teeth with precision [with the whitening gel]. "Thanks to the quick-drying gel, you can see results in 60 seconds.
This pen has over 9,273 reviews on Amazon, with many users calling it "one of the best whitening pens" they've ever used.
Ideal for sensitive teeth
Smilebriter Teeth Whitening Gel Pens
Price: $
This product is designed to whiten teeth and fight tooth decay, all in one. It contains xylitol, known to strengthen tooth enamel.
Since it is 44% carbamide peroxide, it is safe for sensitive teeth. With a refreshing peppermint taste, you can worry less about having a bad taste in your mouth after use.
Best overnight
Colgate Optic White Night Whitening Pen
Price: $$
Want to brighten your teeth while you sleep? Consider this pen made by a brand that many dentists trust. The serum, vegan, gluten-free and sugar-free, changes from a whitening liquid to a film covering the teeth. This is easily brushed off in the morning.
Since it's made with 3% hydrogen peroxide, don't expect quick results. Jablow explains that if the product contained a higher level and was used without a mouthguard, it could cause side effects.
Best overall
SmileDirectClub teeth whitening
Price: $$
This is a great option for those who prefer to buy in bulk. You have the choice between 6 months of bleaching or 1 year of supply. According to the company, you can expect brighter teeth in a week – sometimes nine shades brighter.
That being said, Salim cautions that since it has a high concentration of hydrogen peroxide, it is not ideal for people with sensitive teeth.
Better whitening power
Philips Zoom whitening pen
Price: $$
Featuring one of the highest concentrations of peroxide, this pen contains a whitening punch. You can use it twice a day, morning and evening, to remove stains that have become embedded in your tooth enamel.
The Philips Zoom whitening pen comes highly recommended by dentists. Dr Lauren Steddum, DMD, and dentist partner of CarolinasDentist and Lightwave, told Healthline that she uses Philips whitening products exclusively in her practice.
Better ease of use
Beaueli Teeth Whitening Pen
Price: $$
Formulated with 35 percent carbamide peroxide, this product can help remove stains to reveal whiter teeth.
Satisfied customers rate its ease of use. Simply twist to distribute the gel and comb it over your teeth using the brush. As long as you follow the directions, there shouldn't be a mess.
Its only downside is the time it takes to dry. It takes about 30 minutes which is much longer than other similar products.
Best budget
Polar Teeth Whitening Pen
Price: $$
If you don't feel like spending more money than you need to, consider the Polar Teeth Whitening Pen. It's affordable and doesn't skimp on results. It contains 12% dental grade hydrogen peroxide, which works at a higher level to help you achieve whiter teeth, faster. Its quick 30 second dry time also makes it easy to take on the go.
Best tasting
Moon Teeth Whitening Pen
Price: $$
Don't be fooled by celebrity endorsement – according to users, this pen delivers on what it promises. By collaborating with Kendall Jenner, the company aimed to make oral care less boring. Users comment on the pleasant taste of the pen – with hints of lavender, strawberry and honeysuckle – and say it "is worth the hype."
Ideal for daily use
VieBeauti teeth whitening pen
Price: $$
This pen aims to remove years of stains with its carbamide peroxide formula. While many whitening pens distinguish between whiter teeth and sensitivity, this one is risk-free. It is gentle and can provide over 20 treatments with a very fine application.
60% of users give it 5 stars. Many say how easy it is to use and love the natural mint flavor.
Best blue light device
Go Smile Glow On The Go Pen
Price: $$
This Go Smile whitening pen and blue light combo is designed to provide visible results after just one treatment.
The device facilitates treatment by beeping after 30 seconds to let you know when it's time to change sections. The included USB cord for charging the device makes it easy to travel. Many customers are impressed, with just one writing: "Literally in one use, I saw a huge difference! "
As convenient as teeth whitening pens, they may not be as effective as going to a dentist.
For example, general dentist Dr Mariya Malin says whitening pens don't work on dark or gray spots. "Plus, this whitening method won't work on crowns, veneers or fillings," she added.
There is also a risk that the whitening gel will reach other areas of the mouth. "If the lips collapse, the saliva dilutes and cleans out the peroxide," Jablow explained. "This can lead to less than desired results and side effects like sore gums, tongue, etc." "
Many dentists recommend using a whitening pen in combination with in-office treatments.
Here are some alternatives to consider:
Teeth whitening in the office
If you are looking for instant results, this might be it.
This is a relatively short procedure – up to 2 hours – that enhances tooth shades by about three to four brighter shades in one appointment.
This can be useful for large events, such as weddings, photoshoots, and graduation ceremonies.
As with any teeth whitening procedure, there are a few downsides. "This procedure is very effective, but it can make teeth temporarily very sensitive for 24 hours after treatment," Steddum said.
Fortunately, dentists are trained to help prevent this. "The follow-up will be monitored and touch-ups by any makeup bleach can be used in addition to the bleach treatment," said Malin.
Custom Teeth Whitening Trays
Personalized teeth whitening trays bring the dentist to your home.
The impressions of your teeth are used to make aligners that perfectly fit your teeth.
There is a 14% hydrogen peroxide gel in the trays. For those with sensitive teeth, Steddum says you can use concentrations as low as 6 to 9 percent hydrogen peroxide.
"Wear the aligners for 15 to 30 minutes once a day for 7 to 14 days, or until you achieve the desired whiteness / luminosity," Steddum said.
From there, use it for touch-ups throughout the year to maintain a bright, white smile.
Whitening strips
This is another over the counter whitening option that helps resolve yellow or stained teeth.
These are small pieces of polyethylene, which is a thin piece of flexible plastic. Each strip contains a bleaching agent, such as hydrogen peroxide, to whiten teeth.
If overused or misused, it can permanently damage your tooth enamel. "They're very dehydrating and cause tenderness and irritation to the gums," Jablow explained.
Teeth whitening pens are something to smile about: they're safe, affordable, and relatively effective.
Each tube contains a whitening gel that removes dental stains from food and drink. But since there are so many to choose from, this list can help you narrow down your options.
If you decide that teeth whitening pens are not for you, there are always alternatives, such as professional teeth whitening treatments by a dentist.