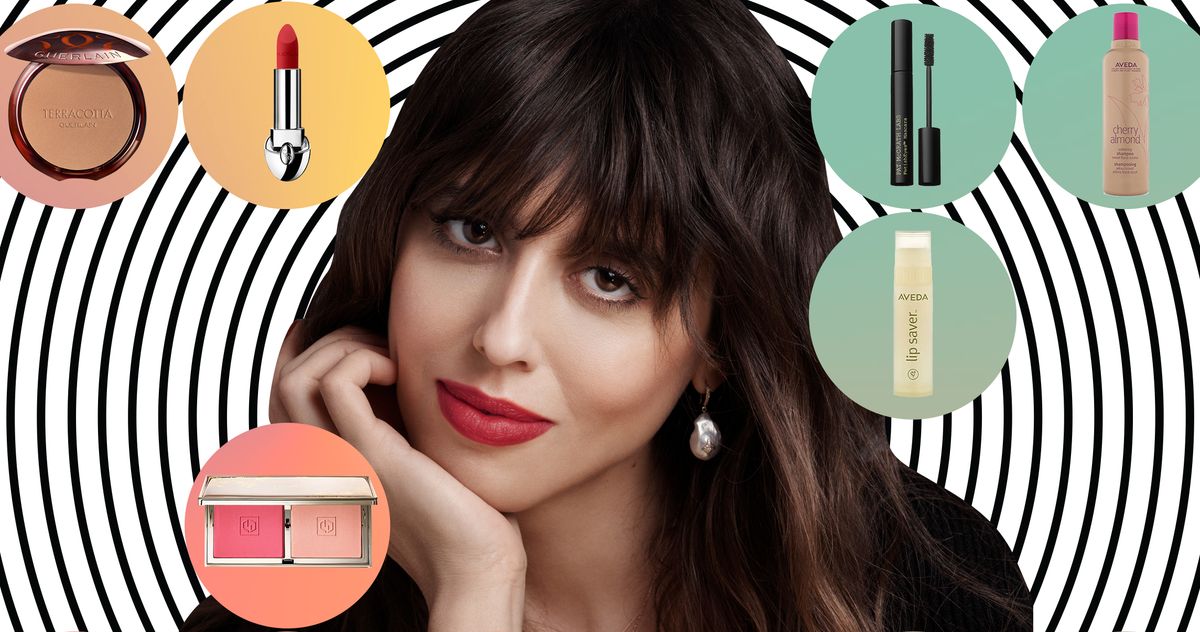 Photo-Illustration: by The Cut; Photo: Courtesy of Guerlain
At the Beauty Group, a Facebook community co-founded by Cut and the strategist, people chat all day about the products they love – the ones that are so good they'll make you click that little "auto-recharge" box at the checkout. Below, we've asked one of our favorite beauty pros to share her picks.
Violette Serrat, better known as Violette, had her first idea for a make-up product when she was eight years old. "I was at the Roseraie de Bagatelle, a rose garden in Paris – there are flowers everywhere and there is a peacock walking around," she says. "And I saw a rose that was red but almost black – it was the first and last time I saw one in my life – and I was blown away. I thought, 'Oh my god, that color in a lipstick would be stunning.' The image of the flower – and the idea of ​​the lipstick – has stuck with Violette ever since.
Today, Violette has eighteen years of experience as a makeup artist – she's worked with everyone from Léa Seydoux to Natalia Vodianova – and she runs two beauty brands. The first is hers: Violette_FR (like her Instagram account), where we find the lipsticks, eye shadow and care essential to her refined aesthetic, and yes, "French girl".
She also joined Guerlain as Artistic Director of Make-up for the French house during the summer (she was previously Global Beauty Director of Estée Lauder). "It was obvious to work for a brand like Guerlain which has been writing history for ages," she says. "I visited the archives of the house and saw a 100 year old lipstick. It's incredible; I can not understand. "
Below, the makeup artist has shared the products she swears by oil cleanser that removes all makeup, matte lipstick that doesn't dry out her lips, and the "best" mascara.
"Guerlain said to himself: 'How can we do something matt and very bright colors but very, very comfortable at the same time? It doesn't dry out at all, and it's really innovative. With MAC's Ruby Woo, the color is stunning, but the texture feels like it's going to suck your life. [Laughs] With this one, I love the feeling of having put it on, which is quite rare. I love the 880 Ruby Red.
"It took me three years to develop it. It was a huge pain in the ass, I'm not gonna lie. I suggested it to one of my best friends, Caroline Wachsmuth, who 20 years ago created one of the first certified organic skincare brands, Doux Me. She's a skincare genius. I came up with this idea of ​​a "skin drink" which is very soothing because I know that most skin problems come from inflammation. I also have dermatitis so I have a reaction to almost anything that touches my skin. I really wanted something that was super hydrating, focused on moisture retention, and helping to stimulate your own skin. When I told him that, I said, 'It should be like a workout for your skin. The more you wear it, the stronger your skin becomes.
The main ingredient is the sap of betula pendula (birch). We have 38 percent fermented sap in it, which is completely unknown. We use this ingredient a lot in France, but a lot of brands don't really work it at such a high concentration because it is very expensive and it is only harvested once a year. I really consider it an anti-inflammatory product, but along with squalane and olive leaf extract it also helps lighten the skin and prevent further breakouts.
Every season except winter, that's all I use. It really works as a 3-in-1 toner, serum, and moisturizer. I can not live without.
"You hear Charlotte Palermino, one of the founders of Gods, talk about skin care, and you just trust her because she really knows her stuff. I have so much respect for this because there is so much nonsense in the beauty world. I love Charlotte because she really wants factual and scientific products. I wanted to try it because my skin is very sensitive and the serum is very soothing and helps to even out it. My skin loves it. I got dark spots from pregnancy, and it helped me too. "
"I have very few short, thin lashes, but I love lashes and I don't wear fake ones so I need a mascara that ticks all the boxes. It should make my eyelashes long, fluffy, thick, maintain the curvature and it should be black. Pat McGrath's is the best.
"When you have olive skin like me you have greenish-yellow undertones, and when winter comes and you haven't seen the sun for a while you need a little bronzer to wake up the complexion. I tend to look a bit dull. I don't contour, but I like to warm my skin with Guerlain Terracotta Powder. For me, this is the best because it doesn't have red or orange undertones. It's very neutral, so it really mimics your own sunny natural look.
When it comes to contouring, I hate it. I think it's a cultural thing. It has never done so in France as in the United States. Brands have really tried to make it a thing, but in France we think bare skin is the sexiest thing. In general, I would say that we don't like to "transform" ourselves; we really use beauty as a way to celebrate or to feel but not to transform ourselves. And the problem with contouring is that it adds so many layers to the skin, and we think it's a little embarrassing for us to show that because we don't want you to see the magic behind the curtain. . So we think, "This is how I was born. If you don't love me, if you don't think I'm beautiful, you don't need to stay with me. ' So we just do the bare skin and add some lipstick or glitter on the eyes for that little something special.
"Some say this scent smells like a baby to them. Some say it smells clean. Some, like me, say it smells like skin at the beach. All thanks to amber, sandalwood, vetiver, ylang-ylang and bergamot. It's in an oil base, and it was so difficult to develop this packaging because very few brands make a roll-on that isn't in a tube. But I wanted a bottle that was chic in your bathroom or in your bag so I looked for nail polish bottles and added a roll-on.
"My skin is so dry. This is the lotion that penetrates my skin the best. I want something like a treatment that will continue to hydrate my skin over time and I don't see it on the market yet, but it gets the job done by hydrating my skin immediately. I also really trust the brand's ingredients and packaging. I know Necessary focuses on sustainability, and that's how I shop – I don't just shop for a great formula; I don't see the point in paying $ 200 for a cream with packaging that isn't durable.
"I have very, very, very fine hair, and I've tried everything for it. I used the wrong products when I was younger, and it took me about five years to fix it. I had so many breakouts, it was dull, it was dry and I lost my curls – I have had very severe anemia since I was a child and that is part of that too. I really wanted something that nourishes and repairs it, and that's what Aveda's shampoos (and conditioners) do for me. My hair is just plain better and healthier since I started using the brand.
"I love when the blush is velvety like a rose petal, and this one has a nice texture, and the color is the perfect pink for my skin tone. It just gets the job done.
In terms of blush placement, it really depends on your characteristics. Honestly, that's why I hate trends that say you have to do things a certain way. Everyone is different, and there is no way to apply a trend to everyone. I saw a video that said you should wear your blush really high, but my face is quite narrow so if I do that I'm going to look even narrower. I actually have to do the opposite; I have to wear blush in the center of my cheeks to round my face a bit.
"It's not normal how obsessed I am with this cleansing oil. In French culture, you go to a very young dermatologist, and the only thing I heard loud and clear is that you have to clean your face every day – there hasn't been a day in the past. my life where I lay down with make-on. But to be honest, I hated cleaning because I put all that glitter on my eyes, and when I get home I know I'm going to have to rub my lashes and lose my lashes in the process. If I used micellar water my skin would be so dry afterwards. Then I tried the double cleanse and this oil. The texture is so cocooning, and it just melts in two seconds. I rinse it off, put on a cleansing gel and my skin is so clean but not dry at all.
"I have the driest lips on the planet. They're very textured, and if I don't hydrate them, they look almost sunken. I've tried everything, and nothing works on my lips other than that.