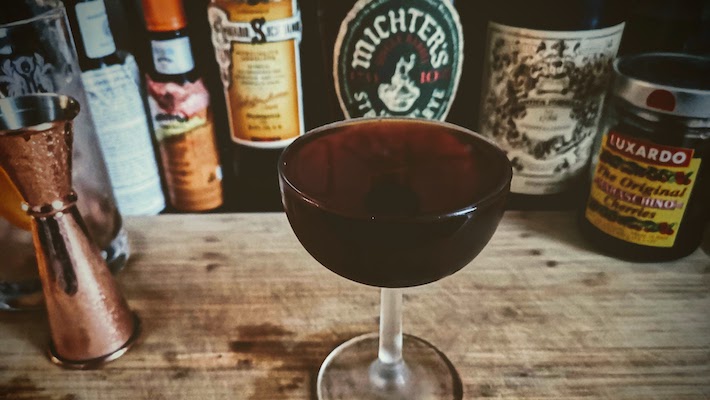 It's Thanksgiving and chances are you'll need a cocktail before the long weekend is over. Maybe more than one. Our pick this year – our official Thanksgiving cocktail, no less – is a modern classic, Black Manhattan.
The beauty of this cocktail is the rush of herbs that mix with good herbal rye whiskey. Herbal notes, sweetness, and bitter spices pair beautifully with a great holiday meal. Another interesting aspect is that – and this is true of all Manhattans – you can easily make this cocktail. Just multiply each ingredient by, say, six and you'll have enough for everyone around the table to enjoy.
Okay, we all know we want to move on to the right things, so let's mix it up!
Manhattan black
Served in a cup and 1 person
Ingredients:
2 oz. rye whiskey
0.75 ounces Averna Amaro
0.75 ounces sweet vermouth
1 dash of Orange Bitters
2 dashes of Angostura Bitters
Cherry Luxardo
orange peel
Ice
Yes i use Michter's Single Barrel Rye 10 Years. There is a tradition in my house of making $ 50 Manhattans for Thanksgiving with this rye because it's delicious. It is also more vegetal and botanical than "spicy", making it an excellent base alcohol for sweet and vermouth. Averna amaro (both of which are botanical in different ways – one sweet and the other woody and bitter). Knob Creek Rye is a solid option if you're looking for something a lot more affordable (especially if you're doing bundles).
As for the vermouth, I use Carpano Antica. The rest – bitter and cherries – you can easily get your supplies at any liquor store or delivery service.
What you will need:
Cocktail glass / pitcher
Cocktail strainer
bar spoon
Jigger
Fruit peeler
Method:
Pre-chill your glass in the freezer.
Add the bitters, Averna, vermouth and rye to a mixing bowl, then add ice and stir until the bowl is iced to the touch.
Take the glass out of the freezer and strain the cocktail into the glass.
Squeeze the orange oils from the peel onto the cocktail and rub the peel around the rim of the glass and the stem.
Place a Luxardo cherry in the cocktail and serve.
Conclusion:
I can't stress this enough: the more alcohol you use in your cocktails, the better they taste. Michter's 10 Rye is a phenomenal whiskey and makes a stellar cocktail. It's so nuanced, sweet, vegetal, bitter, sweet, lemony… I could go on and on.
I tested this on a bartender friend today and his reaction was, "Oh! It's incredible. Believe me, this drink reigns supreme. And again, if you want to batch it, just multiply the main ingredients by the number of people you want to serve. So let's say you want to make six at a time and then 2 ounces. of rye, 0.75 oz. of Averna, and 0.75 oz. of sweet vermouth becomes 12 ounces. rye, 4.5 oz. Averna and 4.5 oz. sweet vermouth. I would keep the six-dash Orange Bitters, but I would reduce the Angostura Bitters to maybe nine dashes instead of 12 because the Averna already does a lot of this spicy botanical work while adding a bitter side. Taste as you go and you will be fine.
Cheers!