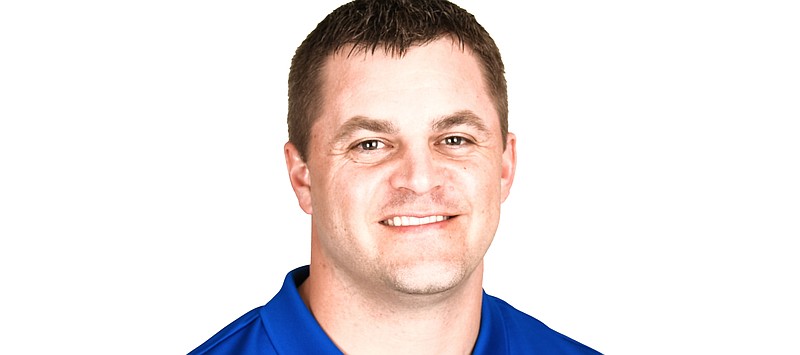 Less than two weeks after Jake Schoonover joined the Kansas soccer team as an assistant coach earlier this year, the man who hired him, Les Miles, was out of work. Schoonover was unsure in March who would become the team's next head coach, but between his ties to the region and his belief in what the program could become, the new assistant knew he didn't want to go anywhere.
So, once KU hired Lance Leipold to lead the Jayhawks and the new head coach began to encounter remnants of the old regime, Schoonover said he was preparing to "pull out the guns" in his interview with Leipold to prove he was a good candidate for the revamped Staff.
"It was a weight on my shoulders once this conversation started and I could have felt like everything was going in the right direction," Schoonover recalled recently, after Leipold decided to keep the coordinator. special teams and four other KU assistants on board.
When Leipold started chatting with Schoonover in their first on-site conversation about the need to focus on local recruiting, the assistant coach knew they would agree.
For much of his time as a varsity assistant coach, Schoonover, who previously worked at Illinois Wesleyan (2010), Illinois State (2011-18) and Bowling Green (2018-21), recruited the metro area from Kansas City as well as the surrounding area. It's a part of the country that Schoonover was very familiar with, having played high school football in Fairfax, Missouri, before pursuing his career in Missouri Western.
It was during Schoonover's college football days that the KU program reached its peak. While playing linebacker for the Griffons in St. Joseph, Missouri, Schoonover couldn't help but notice the Jayhawks flying across the border in Lawrence.
"Seeing how much electricity was there (the program) was fun to watch," Schoonover said while praising the work former KU head coach Mark Mangino did at the time.
Schoonover is convinced that part of the Jayhawks' rise under Mangino – the team have gone 38-24 in their last five seasons, highlighted by a 2007 12-1 campaign that culminated with a victory in the 'Orange Bowl – was related to how the staff at the time made sure to attract as many rookies and extras as possible from Sunflower State and the Kansas City area.
"You could see a culture that was invested in a brand," Schoonover said of the status of KU football at the time and the Jayhawks playing "for KU" and not just "at KU".
Of course, the success of the program fell off a cliff once Mangino was sent off after the 2009 season. The Jayhawks have won more combined games in the former coach's last three seasons (25-13) than he did. 'in the 11 seasons since (21-108).
When Schoonover's coaching career began in 2010, after Mangino left KU, he noticed that many high school players who he said should have ended up at KU never did, that these recruits "slipped through the cracks" or "may have been dumped".
When Schoonover was at Illinois State, he said he was successful in signing 24 players from Missouri and Kansas to the FCS program in Normal, Ill..
"About half of them should have been Jayhawks," Schoonover said.
Notably, while at Illinois State, the program signed Davontae Harris, a Wichita cornerback who would ultimately become a fifth-round pick in the 2018 NFL Draft. Schoonover said Harris had no KU offer, nor much interest from Power Five programs outside of high school.
"So knowing that, seeing that and over the years, hearing the same feeling from all the local coaches, I feel like there is a big opportunity here. There's a niche here, "Schoonover said of KU's potential to expand the program with players from Kansas, Missouri and the region.
"KU is a developmental program that has to develop children and has to find these hidden gems and find these rough diamonds," he said, "and three years later everyone is wondering, 'Hey, d' where did this guy come from? ""
In the current state of the KU roster this summer, there are 19 players from the state of Kansas and seven from Missouri.
"It's not enough right now," Schoonover said.
In order to rectify the situation, the KU assistant said that once Leipold was hired, they started having Zoom calls with local, Kansas City area coaches, Wichita and across the state of. Kansas.
Schoonover said he wanted the area's high school coaches to get to know Leipold and hear the new head coach's plan even before KU staff could start going out and meeting the prep coaches in person.
"There is a lot of ground to be made up in local relations, local relations with recruiting," said Schoonover.
This is why the new KU assistant who hopes to stay with the Jayhawks for years to come thought those Spring Zoom calls and laying the groundwork for a change were so important.
"I want KU to be the Kansas City college football team," Schoonover said. "If a Kansas City kid is growing up and wants to play football, then KU will be one of the first things he thinks about."
His roots in the region lead the assistant to have such high hopes. Schoonover said he has three brothers and a sister, and now that he's in KU, he lives within two hours of them, as well as his parents. He considers it a luxury to be so close to his family, especially his wife, Katherine, with two young children.
As Schoonover said at a recent special teams meeting at KU about his desire to be with the Jayhawks: "I worked 13 years as a coach to take my place, and I'm going to fight. until someone takes it. me."