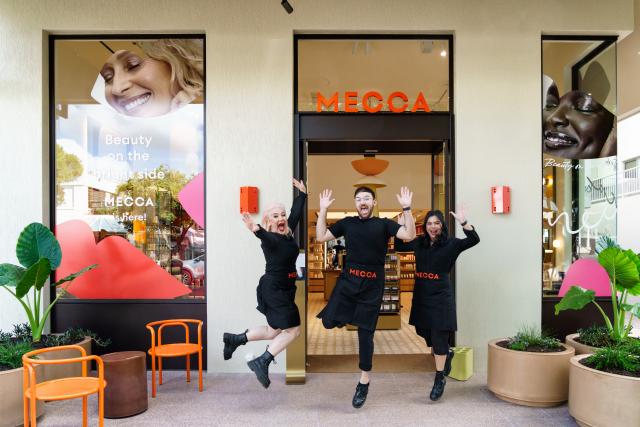 Beauty retailer MECCA Brands opened its first resort concept store in Noosa on Thursday April 7.
Driving the future of beauty and experiential retail, the 169 square meter destination is the region's first MECCA store located on Hastings Street and will be filled to the brim with the best in global beauty.
Considering every customer, from the local beauty novice to the holiday maker, MECCA Noosa will encompass everything the beauty shopper needs, wants and has yet to discover in one destination.
The store will house a selection of holiday beauty products and feature some of the world's most luxurious and coveted beauty finds, giving the local shopper the first opportunity to see, touch and smell the products they know and know. already love in store. , engage with knowledgeable team members and experience the magic.
Maria Tsaousis, MECCA's Head of New Concepts and Services Offering, said: "We are thrilled to bring our signature MECCA magic to the shores of Noosa, one of Australia's most beloved holiday destinations. "
"We want MECCA Noosa to be the ultimate beauty destination for locals and tourists to discover new brands, indulge and grab their favorite products on the go.
"We brought the first-ever resort concept to life through a vibrant color palette, bespoke selection of brands and services, creating an exciting new in-store experience and taking MECCA on vacation with our customers."
With over 60 of MECCA's best-selling beauty brands, makeup enthusiasts can choose cult classics from NARS, Hourglass, Urban Decay and Laura Mercier. Skincare fanatics looking for the latest glow diffusers can discover a compelling range of Drunk Elephant, Tatcha, Summer Fridays and Glow Recipe and a spectacular fragrance offering with the most sought after fragrances from global perfumeries including Byredo, diptyque and Floral Rue.
To extend the retail experience beyond the product, customers will have access to four dedicated service chairs, offering a range of different services from makeup applications to fragrance consultations.
MECCA Noosa is located at Lot 1, 35 Hastings Street, Noosa.