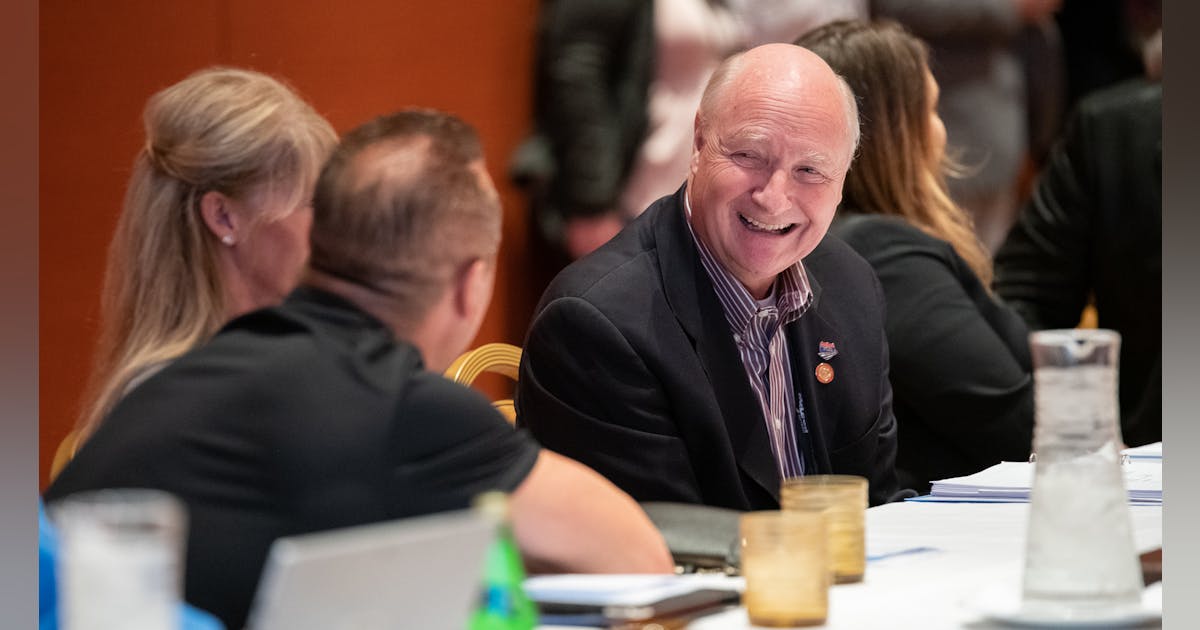 ALEXANDRIA, Va.—Jim Ward retired as president and chief executive officer of one of America's largest motor carriers earlier this year. But he wasn't ready to retire from the trucking industry, which he says is going through one of its most exciting historic transformations.
Longtime frontman DM Bowman (#256 on the Fleet owner 500: list for hire) had been a member of the Truckload Carriers Association for years before rising through the association's executive ranks to become president. Now he leads TCA as the new president.
The Maryland native sat down with Fleet owner in his new office at the Truckload Carrier Association headquarters here in Old Town, across the Potomac River from Washington, D.C., where he recently took over as president, replacing John Lyboldt, who took his retirement in April. Since taking over TCA, Ward has been working with his team to plan for its next fiscal year, including seeking ideas from associates on how to improve the group's many events and educational programs. And Ward has a lot of ideas.
"Jim is definitely getting his opinions out there," said Marli Hall, TCA's Senior Director of Outreach and Engagement. Fleet owner. "He's full of ideas and brings an outside perspective."
TCA has championed carriers since its inception as the Contract Carrier Conference in 1938, going through various mergers and name changes until it became the Truckload Carriers Association in 1997. Its members are all full truck carriers , representing operators of more than 220,000 trucks, generating revenues in excess of $40 billion.
Ward's experience as a carrier and TCA member for 30 years is helping the organization shape its new future, according to Zander Gambill, TCA vice president of membership and outreach. "He knows what people in his place are looking for if they're C-level in terms of news and events," Gambill said. Fleet owner. "He has a lot of insight that someone outside wouldn't know. We get a great perspective that leads to some changes. It is very focused on the value of membership.
See also: With California law, trucking operations face uncertainty
One of Ward's first big decisions as president was to promote David Heller to senior vice president of security and government affairs. Heller most recently served as vice president of government affairs for TCA, where he has been since 2005. "We've always been committed to safety, but I didn't want people to think we lost sight of that," said Ward. "We are looking at security and compliance and what we can do to continue to develop security directors, security personnel and risk managers in this industry."
Just over 90 days into his new job, Ward shared his thoughts on the future of the industry, its role in the U.S. economy, how driver jobs can be improved, and the role that play industrial bands such as TCA in the modern world.
Trucking in the 21st century
The following questions and answers from FleetOwner's visit to the Truckload Carriers Association have been edited for clarity.
FleetOwner: What role does the TCA and other industry associations play in the 21st century?
Jim Ward: It is interesting to see how associations have evolved. For someone like me, who has worked for DM Bowman Inc. for over 30 years, the last 20 as President and CEO, I was on the side of the CAW members. My first introduction to the trucking industry as a member of the association is said to have been in 1986. Then the business of the association was to have that big meeting and entertaining, which reception had the biggest spread seafood or the biggest tenderloin, outlining the year for executives and board members, news coverage in magazines, and great networking opportunities.
Although most of these things are still important, associative activity has entered the 21st century. Creating year-round membership value is even more critical today. So you need to have quality touchpoints and good member engagement to be successful.
At TCA, where I've worked the line of officers for the past eight years — until president last year — we're blessed with quality staff. Very lucky with our educational training offers. We have a dynamic behind our Truckload Academy to continue to develop it. Linked to this is our benchmarking program, which is growing tremendously and creating tremendous value. We also develop and expand our certification programs with the North American Transportation Management Institute. It's great to be a part of those things.
FO: Has the COVID-19 pandemic played a role in these changes?
Hall: We have always known the essential nature of our business. But until COVID hit, we were finally recognized as essential. Image-wise, we have to be absolutely sure that we are, #1, communicating this to each other. #2, making sure the community knows how vital our workforce is to us and this nation in keeping American goods flowing. It is incumbent upon us, as an association and our members, to ensure that we continue to fly this flag and not let it drift backwards.
FO: As someone who has been on the member side and on the management side of TCA, how can members get the most out of an association?
Hall: As a member on the other side, the nice thing about associations is that you only have one carrier member, you only have one vote. If you don't benefit by participating and providing that voice of your business to the association to help them frame their advice and direction for their committees, shame on you.
FO: How are you working with the government to improve trucking?
Hall: We have a government affairs branch. We stay in our lane. These are whole truck concerns and issues. Admittedly, we are by no means ATA (American Trucking Associations), and we know it. But we need to have some dry powder in case there are situations specific to our truck-loaded members that we can go to Capitol Hill and talk about them intelligently and represent them well.
We just sent a letter to Secretary of Transportation Buttigieg, Secretary of Labor Walsh, and FMCSA Administrator Hutcheson about our voluntary shipper-carrier-driver relationship guidelines, which we've had in place here at TCA since the early 2000s. So we've put together some best practices.
FO: What is TCA doing to improve the work of truck drivers?
Hall: Coming out of COVID is an opportunity for us to profess processes and things we can keep working on to do a better job of driving. Workforce development is a challenge for everyone. But this has been a significant challenge in our industry for many years.
Being able to effectively manage the time of a professional driver is essential. It's critical for motor carriers because you have assets—whether it's human resources or physical assets—that you need to move. Embedding speed into the system certainly helps address the supply chain challenges we are currently facing. It's also about the simple things in life, which go back to what we call the golden rule of treating drivers like the professionals they are. Ensure drivers have access to facilities at shipper sites.
We have seen some states come up with legislation mandating the use of restrooms. We say, wait a minute. We don't know if we need a law to do that. We think it's just good common sense practice. So let's work together to make sure we take care of our professional driver employees.
We want to reduce some of the complexity of the supply chain system by working together. There's no better time to do it than now.
FO: Do you think the industry is moving towards sustainable development?
Hall: I was first challenged by the thought process of electric vehicles, their practicality and their integration into the industry. But as I sit with you today, he's going to be here a lot quicker than I ever imagined. I think our members would tell you that as well.
There are still many unanswered questions about this. Especially when you're talking about the power grid and how you're going to provide the necessary load capacity that will be needed. Also, there are questions about the residual value of the equipment depending on what you will pay upfront.
But we as an industry – and our members – are good stewards of our environment. We understand the importance of this. So when you look at how technology has advanced in our industry from 10 years ago to today and the emissions from equipment compared to what they were, it's pretty amazing. There is no doubt that there are currently many alternative sources that are being considered for our industry and integrated into the business model.
FO: The United States is facing the highest rate of inflation in decades, in part because of record fuel prices. How will this affect trucking?
Hall: There are certainly headwinds for the industry, including inflation and fuel costs. But the goods will continue to be transported in this country — 80% of them will be transported by truck. The fact is that the demand will continue to grow. We are therefore essential and we will remain essential. It's a good time to be in trucking.
It's also a great time to sit down at the table with carriers and shippers, talking about the complexities to continually improve how we work together to deliver goods to this country.
FO: What is the future of trucking?
Hall: When I retired from DM Bowman on April 1, I told my management team that I wish I was 20 years younger. Because I think the best days are ahead for people in this business, especially for companies that are focused on supporting their associates inside their walls, the professional drivers and their technicians. Technicians are just as difficult to hire as professional drivers.
I believe that fleets continue to make wise and quality investments in their businesses, work closely with the maritime community to eliminate system complexities, stay focused on their networks and deliver high-level services, all managing costs to the best of their ability – we're going to do very well.