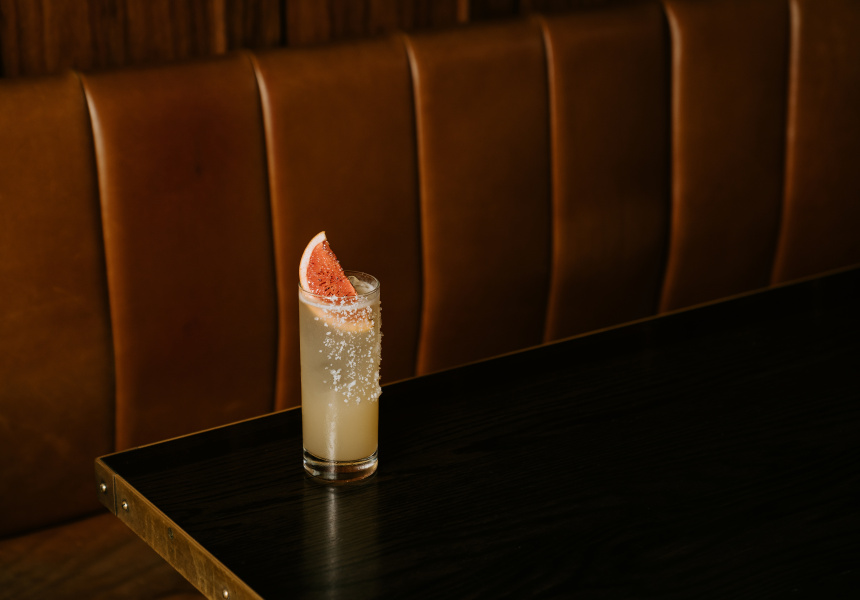 "When it comes to flavor combinations, staple ingredients and novelty-type flavors work for me," says Sam Smith, bartender at the Mexican-inspired Mesa Verde CBD canteen in Melbourne. "That's what really appeals to me about a menu. Nothing too technical, but something that reads well. I've always had this silly way of putting things together.
For example: Luchador's Breakfast is a twist on Paloma, combining the classic pairing of tequila and grapefruit with smoked marmalade to go beyond tradition. "It's still a sour drink," Smith says. "It has a subtle sweetness and smoke that shines through from start to finish."
The beauty of Smith's cocktail is that the complex flavors don't require a lot of work. For the home bartender, smoking the standard marmalade is the only preparation required, and it should take no more than 10 minutes.
"It's a Rose marmalade that I smoked with cherry wood," Smith explains. "It's just a standard English orange marmalade – not sweet, but tangy." To infuse the smoke, all you need is a gas stove or barbecue. "Place a disposable aluminum tray – or just a steel griddle – on the burners, then wood chips on the bottom. Put the marmalade in a container such as a steel bowl or other small aluminum container, then put aluminum foil on top. Once smoked for about 10 minutes, the marmalade should be ready to use.
While a traditional Paloma is constructed in the glass, introducing marmalade to the drink requires a shaker. "To get the marmalade to break down into a cocktail, you have to give it a little belt," Smith explains. Add tequila, lime juice, grapefruit juice and marmalade to a shaker filled with ice. Smith opts for Arette Blanco. "It's a highland tequila, quite subtle," says Smith. "It's a bit sweet and peppery, and very versatile. You don't want to use anything too funky and fancy as a cocktail ingredient.
Once well shaken, Smith strains it twice (once through a regular strainer, and again through a fine strainer) through a salt-rimmed Collins glass and covers it with ice. The finishing touch is Schweppes grapefruit infused mineral water to give the drink length and subtle carbonation. "It works with a strong flavor like marmalade," says Smith. "It just adds that soft grapefruit accent, that fizz at the end. I wasn't looking for something that really took up too much space, just to complement it. It works really well.
Here's how to do Smith's twist on the Paloma at home.
Sam Smith's Luchador Breakfast
For one person. Approximately. 1.4 standard glass.
Ingredients:
45ml Arette Blanco
30ml lime juice
45ml grapefruit juice
One tablespoon of any smoked citrus marmalade (Smith smokes the marmalade with cherry wood)
A large pinch of salt (for the edge)
Schweppes Grapefruit Natural Mineral Water
Method:
Add tequila, lime, grapefruit and marmalade to a cocktail shaker and shake.
Garnish a tall glass with flaky salt. Double strain the liquid into the glass.
Top up with Schweppes Grapefruit Infused Natural Mineral Water. Garnish with a slice of dehydrated grapefruit (or any citrus fruit). To serve.
This article is produced by Broadsheet in partnership with Schweppes. 18+ only. Please drink responsibly.