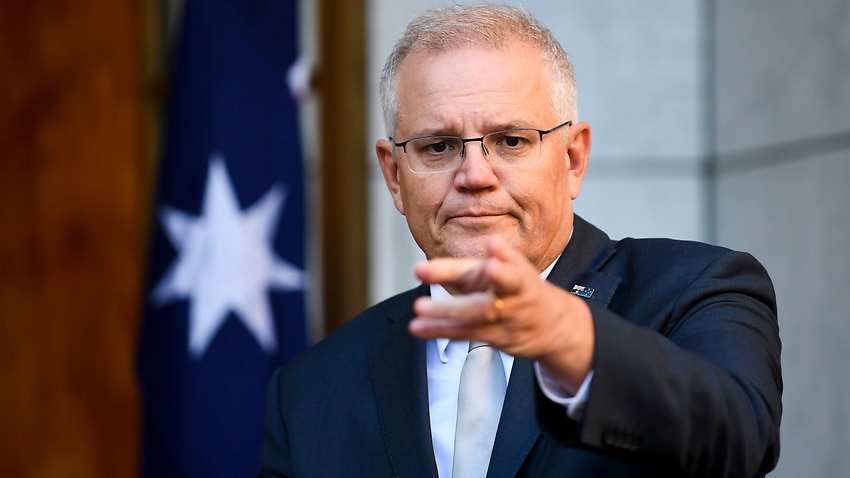 Prime Minister Scott Morrison unveiled a "new deal for Australians on the way out of COVID-19".
The national cabinet agreed to a four-step plan for Australia to move from attempting to suppress COVID-19 to the situation it was before the virus.
Each new phase would be triggered by reaching a vaccination threshold expressed as a percentage of the eligible population.
There was no commitment to specific timelines as to when the transitions will occur.
Mr Morrison said on Friday the deal was designed to end blockages and travel restrictions.
"If you get vaccinated, you change the way we live as a country," he told reporters.
The four-step plan is based on the Doherty Institute's modeling work on how many people would need a jab for the Alpha and Delta COVID-19 variants.
The first steps include testing alternative quarantine options, such as home quarantine for returning vaccinated travelers.
The national cabinet also agreed on Friday to reduce inbound commercial passenger arrivals at all major ports by 50% to ease pressure on quarantine facilities.
Full details of the new four-step plan have yet to be revealed, but here's a look at what we know so far.
Phase one – "Pre-vaccination"
This is the stage Australia is in at the moment, Mr Morrison said.
This is the implementation of the national vaccination plan.
The national cabinet agreed during this phase, blocks should be used as a last resort and testing of alternative quarantine options would begin.
The existing Commonwealth Medicare Vaccination Certificate, used to determine who has been vaccinated, will become easier to access through electronic devices such as phones.
The national hotel quarantine network will also be the subject of further examination.
The Commonwealth will also facilitate increased commercial flights to the Howard Springs quarantine facility to offset the reduced caps for travelers to capital cities.
Phase two – "Post-vaccination"
Then, Mr. Morrison said, "we will enter a phase where we seek to minimize serious illness, hospitalization and death from COVID-19."
This would likely see more restrictions relaxed, with lockdowns only occurring in "extreme circumstances" to avoid "an escalation in hospitalizations and deaths."
Inbound passenger caps would be restored to previous levels for unvaccinated returning travelers. Wider caps would be put in place for people vaccinated.
New quarantine provisions would be extended to vaccinated Australians, based on the trials conducted in the first phase.
The national cabinet has agreed to cap the entry of student and economic visa holders at this point, subject to the availability of quarantine.
Phase three – "Consolidation"
The goal of this phase is to manage COVID-19 in accordance with public responses to other infectious diseases such as influenza.
That would mean 'no lockdown,' Mr Morirson said, and hospitalization and death rates from COVID-19 would be similar to other well-controlled infections.
It would also see a lifting of restrictions on overseas travel for those vaccinated and an extension of unrestricted travel bubbles for other countries.
An increased ceiling allowing the entry of students holding economic and humanitarian visas would also be introduced.
Phase Four – "Return to Normal"
The final phase would see an attempt to return the country to pre-COVID normal, including allowing uncapped inbound travel for all those vaccinated without quarantine.
It would also allow uncapped arrivals of unvaccinated travel, subject to pre-flight and upon arrival COVID-19 testing.
"We're doing this in Australia, and you can see what's going on the other side," Mr. Morrison said.
PM admits deployment faced 'challenges'
The Prime Minister's release of the plan comes after the vaccination rollout has been delayed by supply issues from Europe as well as changes in medical advice regarding the AstraZeneca vaccine.
He openly admitted on Friday that these obstacles have impacted Australians' confidence in government delivery of the vaccine.
"I would gladly support the view that we had problems with the immunization program in the first six months," he told reporters.
"What matters in the end is that you get the job done. And where we have had setbacks, we overcome them and continue, "he said.
Mr. Morrison also rejected the suggestions on Friday. His late-night press conference earlier in the week had falsely encouraged people under 40 to talk to their GPs about getting the AstraZeneca jab.
"Everything I have said on this subject is completely in accordance with the medical opinion which is there," he said.
The Australian Immunization Technical Advisory Group has recommended that people under the age of 60 get vaccinated with Pfizer.