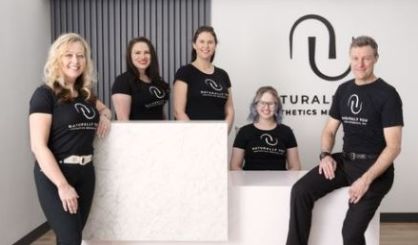 A new skin care spa is open in St. Joseph and it's all the dream of two nurses who have been wanting to start the business for quite some time.
Kimberly Leonor tells us that Naturally You Aesthetics Medical Spa was founded by her and Tatiyana Stankovic. The two worked for Spectrum Health as nurses and found that they both enjoyed helping others take care of their skin throughout their careers.
The April opening of their new business was a little delayed, but Naturally You Aesthetics Medical Spa opened at 3860 M-139 on May 10. It's the old Comcast building.
Leonor says it's been an exciting time since opening. The spa offers a luxurious environment in which to receive all kinds of skincare, from Botox to treatments for wrinkles, acne, and more. They also offer laser skin resurfacing and a full line of skin care products.
The grand opening of Naturally You Aesthetics Medical Spa will take place on June 1 with experts on hand to talk about the services offered and the local businesses represented. They will have refreshments, prizes and a raffle, courtesy of other local businesses. The event will take place from 6 p.m. to 8 p.m. and everyone is invited to come and discover the services offered by the new aesthetic medical spa in the region.
You can learn more about the new company on its website and follow it on Facebook. Moody on the Market congratulates these two entrepreneurs for bringing new services to Southwest Michigan!